About the Author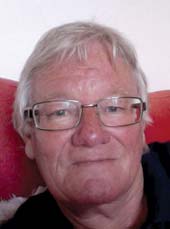 Ian Morrison is a former full time sports author who has more than 85 published works to his credit dating back to 1983. He retired to Mallorca in 1991 and during his time on the island has worked on the sports entries for the Top 10 of Everything every year until its final issue in 2012. He also compiled spin-offs, The Top 10 of Sport and Top 10 of Football with the late Russell Ash.
Born and educated in Liverpool, Ian has always been a keen Everton FC supporter and he went to his first match when he was nine years old in 1956 to see Everton Reserves play Chesterfield Reserves. From that day on he was 'hooked' and a few months later, at Christmas that same year, he was given a copy of Maurice Golesworthy's Encyclopedia of Football - a book that was way ahead of its time - and he got 'hooked again', this time on the facts and figures and statistics behind the 'beautiful game.'
In 1960 he was given a book crammed full of Olympic Games results and records - a sort of precursor to the David Wallichensky Olympic books. And from that moment on a 'love affair' with the Oympics began.
Strangely, despite writing so many books, and on so many different sports, Ian has never written a book about the Oympics, other than a biography of potential gold medallists at the 1984 Los Angeles Games for the electronics company Sony and also one of the Playfair series of books entitled Playfair Olympics 1984.
He has always had this idea to research biographical data about all the British Olympic champions and put it into book form. However, now that Ian is retired he has had the time to turn his long time idea into reality and the book is now well on its way.
Whether a publisher will want to turn it into a book in time for the 2016 Olmypics or not is debatable. But, in response to that age-old question publishers ask authors: "A good idea, but who would buy it?" they should know the answer in view of Team GB's successes at Beijing and London.
But, whether they do or not is irrelevant as Ian is prepared to share it all via this website and is adding new biographies all the time. It is anticipated that the entire work will be finished by the Autumn 2014.
If you find anything that is wrong, or you can update or add to any individual biography, then Ian would be delighted to hear from you. Maybe you are related to an Olympic champion and can add some personal information that you can share with other people and play your part in making this the most comprehensive, and best, book (or website!) about the 500-plus men and women who have won Olympic gold medals representing Great Britain.
To contact Ian you can email him at: igmsantaponsa@atlas.com.es